Are you ready to experience
the most demented moments of
Australian rock and roll history???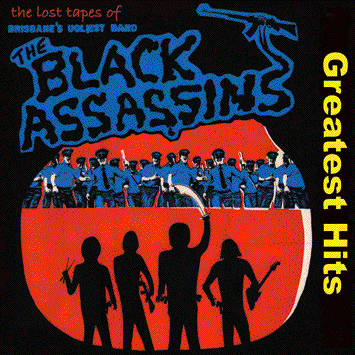 Brisbane, Australia 1982: The revolution was in the streets and when they weren't bringing down governments and performing insane live gigs, the Black Assassins were in the studio.
Now after twenty-three years under someone's bed, here are the fabled lost tapes of the Black Assassins and you can have them in your CD player to pervert young minds and astound your friends. Play it loud and set the controls to the heart of the sun.

If you want to listen to songs from The Black Assassins Greatest Hits you can listen to some of them on The Black Assassins' Blog and on the NumberOneMusic site.

Here are some reputable purveyors of high-grade rock and roll who are stocking

The Black Assassins Greatest Hits

and will even sell you a copy on line:
http://www.rockinghorse.net
http://www.skinnysmusic.com.au
http://www.redeye.com.au
http://www.jbhifionline.com.au
http://www.sanity.com.au
http://www.missinglink.net.au


Here's our distributor if you want to buy in bulk. They also have a list of actual shops run by actual humans who are probably hoarding copies of
The Black Assassins Greatest Hits

right now
:
REVERBERATION DISTRIBUTION PTY LTD
PO Box 67 Petersham NSW 2049
Unit 11/99 Moore St Leichhardt NSW 2040
Ph: 02 9568 2951 Fax: 02 9569 4319

http://
www.reverberation.com.au
The Black Assassins Greatest Hits

makes the perfect Xmas present that keeps on giving, particularly for those whose mind needs a good bending!!!