Home
Who is Brisbane's Ugliest Band?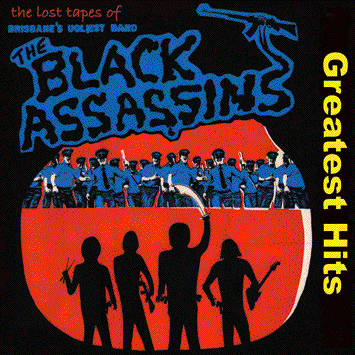 Keen exponents of the have a go and do it yourself ethos of the time, The Black Assassins were a dirty-assed punk rock band formed in Brisbane, Australia in the middle of 1981, one week before their first gig. It was the height of Premier Joh Bjelke-Petersen's Reich in the state of Queensland, oppression loomed large in the land and people were scared to speak. The Black Assassins were a loud, raucous assertion of the right to free speech against everything Jackboot Joh stood for.
The Black Assassins had strong political opinions but were very inexperienced musicians who knew no shame. They had three rum-soaked rehearsals during their first week to get a set of 8 songs together before hitting the stage at the QIT Campus Club. It was a highly entertaining theatrical event backed by a wall of noise, musically mutilated performance. This is how they earned the title of "Brisbane's Ugliest Band".
The Black Assassins went on to play a total of 14 gigs in and around Brisbane during the following year before the bass player and guitarist moved to Sydney and formed the band Mutant Death. The Black Assassins continued to play sporadically during the rest of the eighties if they happened to wash up in the same town at the same time.
The band was highly theatrical and usually pre-spent all the money they were paid for gigs on props and costumes for their performances. Their songs and stage act were energetic and highly political, focussing on issues of the day, having fun with imagery evoked by their name and the topics of their songs. It often involved doing things with dummies of corrupt politicians and interaction with members of the audience. Not surprisingly, many Black Assassin gigs ended in confrontations with the Queensland police.
The Black Assassins didn't take themselves seriously and aimed to have as much fun as they could while they played. Sometimes it worked and they sounded good and people danced. Other times they could sound pretty atrocious. Luckily there was the fabled Sunshine Studios Session - thirteen songs recorded in twelve hours of tequila induced rage,
The band broke up, the tapes languished under beds and at the bottom of the cupboard for years before we got our act together, fixed it in the mix and produced

The Black Assassins Greatest Hits,

a CD just jammed pack with stereophonically enhanced, punk rock classics straight from the seedy Brisbane streets of the Joh Bjelke-Petersen era,